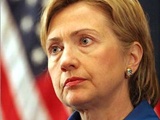 It has emerged that US Secretary of State Hillary Clinton telephoned Armenian President Serzh Sarksyan last Thursday only hours after the Armenian leader threatened to annul the protocols signed by Ankara and Yerevan in October for the normalization of relations if Ankara fails to unconditionally implement them.
Following a White House meeting with US President Barack Obama last Monday, Turkish Prime Minister Recep Tayyip Erdoğan said progress in ongoing efforts at normalization between Armenia and Turkey was related to progress concerning the Nagorno-Karabakh dispute between Armenia and Azerbaijan.
In Yerevan on Thursday, in an apparent response to Erdoğan's remarks, Sarksyan explicitly threatened to walk away from its landmark agreements with Turkey if Ankara continues to make their implementation conditional on the resolution of the Nagorno-Karabakh conflict.
Armenian media, citing Sarksyan's press office as a source, reported that Clinton initiated a telephone conversation late on Thursday to brief the Armenian leader on Obama's talks with Erdoğan last Monday.
"During the phone conversation, Secretary of State Clinton once again emphasized that the United States will continue with its consistent support for a speedy normalization of relations between Armenia and Turkey without preconditions," the presidential office said in a statement.
It also cited Sarksyan as reaffirming Yerevan's readiness to press ahead with the normalization process and expressing hope that "the Turkish side will display similar readiness and responsibility," Armenian media reported, noting that there was no word on whether the two touched upon the Armenian threats to walk away from the deal.
/TODAY'S ZAMAN/