An explosion at a coal mine in northwest Turkey has killed 19 workers, Labour Minister Omer Dincer said on Friday.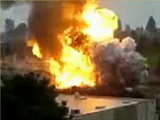 The mine collapsed after a dynamite explosion, trapping the miners underground on Thursday evening, the local governor said.
"Unfortunately, the workers have passed away. The structural supports totally collapsed under the impact of the explosion," Dincer said.
Earlier reports had said methane gas was believed to have caused the blast at the mine in the province of Bursa.
Miners in hard hats and relatives of the victims gathered at the entrance to the mine while rescue teams worked to retrieve the bodies, television pictures showed.
Mining accidents are common in Turkey. The worst disaster, at Zonguldak in 1992, killed 263 workers. Since 1941, some 3,700 workers have been killed in mining accidents in Turkey, according to broadcaster CNN Turk.
The bodies of two miners have so far been pulled out of the mine, Dincer said in comments broadcast on live television. He said that regular inspections had been carried out at the mine.
Poor weather had obstructed the rescue operations, with heavy fog preventing the arrival of a rescue team by helicopter.
A total of seven workers were treated in hospital for respiratory problems encountered during the rescue operations.
/Reuters/