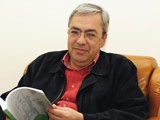 There is no guarantee that Armenia will register enlivening in 2010, Former Chairman of Central Bank of Armenia Bargrat Asatryan told reporters on Dec. 10.
"Based on my estimates, economic conditions are expected to get tougher in 2010, at that it is the best case scenario," Asatryan said noting that economic slump 2010 will make 1.5 percent as compared to 2009.
According to the expert, the downturn in the country will exceed 15 percent this year.
Economic growth will be registered in some fields, however decrease in foreign trade will be recorded, Asatryan said adding that upturn can be expected only in 2011.
/News.am/