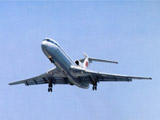 Russian President Dmitry Medvedev says he sees no obstacles to a resumption of air links with Georgia, which were cut after last year's brief war, Reuters reported.
Medvedev's comment was the first indication by a top Russian official that some normalization of relations with U.S. ally Georgia might be in prospect after their August 2008 conflict over the rebel region of South Ossetia.
"I am not going to contact the incumbent Georgian President [Mikheil Saakashvili], but this is not a reason we should put off other decisions until later," Medvedev told a media forum.
"I believe direct flights by air companies and opening a border checkpoint are possible.... I see no problem here," Medvedev added.
Medvedev did not explain how air links might operate, as Russia is not currently issuing visas for Georgian citizens and the two countries have suspended diplomatic relations.