Interview with Turkey's State Minister Egemen Bagis.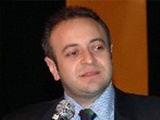 In what stage are talks on price on Azerbaijani gas and its transit to Europe? Why talks are protracted? What are the requirements of sides?
I can not say anything concrete on this issue. Azerbaijani and Turkish energy ministers are involved in process of intense negotiations. We are watching their work. This issue is very important for Turkey and Azerbaijan.
Turkey is a country which is of great importance in terms of the European Union energy security because 70 percent of energy that Europe needs is located adjacent to Turkey. So, Turkey is a natural geographic bridge for Europe.
But Turkey is not only a bridge to bring new goods to new markets, but also a natural barrier against illegal migration, terrorism, drug trafficking and smuggling. In other words, Turkey is a bridge in addressing some issues while it is a shield in other issues. Besides, Turkey is no less important for the EU than the EU for Turkey.
Iran says Turkey wants to acquire 50 percent of Iranian gas marketing and gas transport via Nabucco. How realistic is Iran's participation in the Nabucco project? Do you agree Nabucco project is impossible to implement without Iran's participation?
Nabucco is a commercial project with six partners. These partners will have to decide where to buy gas and where to transport the energy. Iran is a country with the largest deposits of natural gas. Nabucco shareholders will decide on delivery of Iranian gas to European consumers. Iran's gas can be support for Nabucco. But even without the Iranian gas, Nabucco will be filled with gas from Azerbaijan, Turkmenistan and other countries in the region, as well as, for example, fields in northern Iraq.
Addressing the issue of the the Kurdistan Workers' Party (PKK) is very important for Turkey. Do you think it will be possible to solve the Kurdish problem within the framework of a "democratic solution?" Is there any cooperation or joint project with the Iraqi administration on this issue?
The PKK terrorist organization and Turkey, as a nation, creates interaction against the organization together with all citizens, partners and friends. "A democratic solution" should be evaluated in the framework of national unity to unite us.
Not only our Kurdish brothers have democratic problems in Turkey. There is a need to improve democratic rights of the Armenians, Alawi Shiites, women, children and workers. Turkey has started to improve democratic rights of citizens, irrespective of their ethnic and religious origins.
We are resolute in this matter. But it is not directly related to the PKK. It is a different theme. One of them is connected with the fight against terror and the other to improvement of citizens' rights.
In the fight against terror, we are interested in cooperation not only with Iraq but with all partners, neighbors, friends, as terrorism is not only the problem for Turkey. It is an international problem and all nations must fight it.
K. Pashayeva
Day.Az