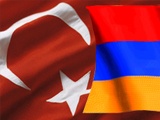 Turkey will be welcoming Armenian travel agencies to the Travel Turkey Fair, marking the first time that representatives from the country have participated in a trade fair in Turkey, Turkish news agency Today's Zaman reported.
The Armenian Association of Travel Agents will, for the first time, attend and participate in the Turkey Travel Fair, organized by the Association of Turkish Travel Agents (TÜRSAB), İzmir Fair Services Culture and Art Affairs Trade Inc. (İZFAŞ) and the Hannover-Messe International İstanbul, a fair organizer.
According to information from İZFAŞ, the association will be setting up a booth to promote Armenian investment opportunities along with a presentation on tourism destinations in Armenia, Azerbaijan and Georgia.
/Tert.am/