Eastern Partnership Foreign Ministers had a meeting in Brussels on Dec. 8.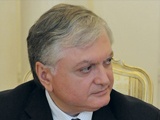 Armenian delegation chaired by FM Edward Nalbandyan attended the summit.
The Foreign Ministers assessed the activities held within the new cooperation format, they have pointed new efforts, exchanged views over more effective usage of partnership's potential.
Armenian FM declared that Armenia is interested in improving ties with the EU.
According to Minister Nalbandyan, the initiative of partnership creates new grounds for reinforced cooperation in politics, economics, and humanitarian fields.
Emphasizing the significance of partnership's projects for Armenia and member states, minister Nalbandyan stated the need of easing entrance visa providing activities.
"Educational, youth and cultural communication has significant role and we should encourage those initiatives contributing to them," Armenian FM said.
/Panorama.am/