Interview with Turkish Foreign Minister Ahmet Davutoglu.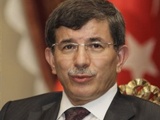 You have attended Turkish Prime Minister Recep Erdogan's Washington visit, where he discussed many issues today. What was Nagorno-Karabakh's place in the talks?
This was a main issue. Turkey is very interested in explaining to the Obama administration the sensitive points of the Nagorno-Karabakh conflict. Before the U.S visit, I spoke with Azerbaijani diplomats. We communicate with them very often. It is important for Turkey for the Obama administration to focus its attention on this topic. We have seen strong interest in Washington in the Nagorno-Karabakh conflict. I have repeatedly stated and I want to reiterate that the process of normalizing Armenia-Turkey relations has been and will be a catalyst to keeping the Nagorno-Karabakh process in the international arena. Our attempts were directed at this. We want to tell the Azerbaijani people - you can be sure we are with you.
What is the next step in the normalization of Armenia-Turkey relations? In Washington Erdogan said the OSCE Minsk Group should increase its efforts in the Nagorno-Karabakh process...
Yes, this will be the next step. As our PM said, we explained to the U.S. administration that we cannot achieve lasting peace in the region without resolving the Nagorno-Karabakh issue.
Today Washington also discussed the Nabucco pipeline project. At what stage are Azerbaijan-Turkey negotiations on this project?
Our PM said 10% of Nabucco accounted for Azerbaijan. In fact, the rest of the gas, too, will come from Azerbaijan, but it will go under the patronage of certain companies - BP, etc. I think the problem between our countries relating to transit prices is solvable. We soon will find a solution. Our delegation is discussing this topic with Azerbaijan today. Turkey and Azerbaijan speak with one voice on a number of regional issues. Nabucco is one of them.
/Trend/