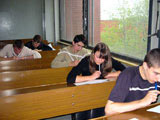 Armenian Health Ministry has held a session on temporary closing schools and kindergartens due to flu epidemic, Armenian Health Minister Assistant Shushan Hunanyan said
Three seasonal flu (influenza A) death cases have been registered in Armenia so far.
A woman and a man died of flu on Dec. 1 and 3 in "Armenia" and "Erebuni" medical centers.
The number of swine flu cases reached 30 in Armenia.
/News.am/