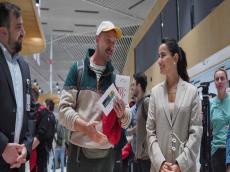 Western Georgia's Kutaisi International Airport on Sunday welcomed its millionth passenger for the first time in one year, with Deputy Economy Minister Mariam Kvrivishvili greeting the passenger with various gifts, who arrived in Kutaisi Airport from the German city Frankfurt by Hungarian budget airline Wizz Air, Azernews reports, citing Agenda.
We were very happy and proud of hearing from the millionth passenger of our airport that he decided to travel to Georgia after reading many articles about our country. This emphasises that the awareness of Georgia in the German tourist market is growing", Kvrivishvili said.
She stressed the Georgian Government was making "great efforts" to further develop the second largest airport in Georgia, and noted that a large-scale infrastructure project of building a new 3.5 km long runway was planned at Kutaisi Airport.
The new runway will enable Kutaisi Airport to serve aircraft of all sizes and increase passenger carrying capacity", Kvrivishvili added.
Georgia continues to negotiate with international airlines to have more direct flights to strategic target countries, especially European states, Kvrivishvili noted, emphasising that Kutaisi Airport "has been operating the largest number of direct flights" to Europe.
Passengers of the "historic flight" - marking the millionth passenger in one year - passed through a tunnel of screens, which announced the significance of the flight for the airport, as well as advertising the hospitality of the western Imereti region.