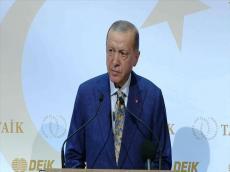 Turkish President Recep Tayyip Erdogan said Wednesday that confidence in Türkiye's economic stability has strengthened following the country's May presidential pollsç Azernews reports, citing Anadolu Agency.
"We are pleased to observe that confidence in our country's economic stability has strengthened after the elections," the Turkish leader said in his address at an event organized by the Türkiye-US Business Council in New York.
Highlighting the substantial contributions of Turkish business circles to the American economy, Erdogan noted that Turkish companies' direct investments in the US have reached approximately $8.6 billion over the past decade.
"We will mutually increase these investment figures with the efforts of business representatives," said the president.
He said Türkiye is focused on establishing a "sustainable growth climate" through policies that prioritize investment, employment, production and exports.
Turning to the nation's medium-term program, President Erdogan said Türkiye aims to "eliminate the factors that increase inflation by applying the tools of fiscal and income policies without compromising economic growth."
Emphasizing the longstanding alliance between Türkiye and the US under the NATO framework, he expressed Türkiye's desire to enhance and sustain this partnership, which he said plays a crucial role in ensuring security, peace and stability in the Euro-Atlantic region.
"Our economic and commercial engagements with the US constitute a vital aspect of our bilateral ties. Over the past decade, our bilateral trade volume has surged by 1.5 times," he noted.
The Turkish leader said the US became the second-largest destination for Turkish exports and the fifth-largest source of imports.
"By the end of 2022, our bilateral trade volume had exceeded $32 billion," he said, reiterating the target to reach $100 billion.
"As we strengthen our political ties with America, we should also broaden and diversify our cooperation in the economic sphere," he added.
The president also expressed his hope to resolve issues stemming from unilateral actions such as the imposition of additional customs duties in the steel and aluminum sectors by the US.
"Also, we expect the impediments to the development of our cooperation in the field of the defense industry to be eliminated as soon as possible," he added.