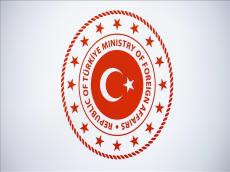 Türkiye said Wednesday that it welcomes talks in Saudi Arabia on ending the war in Yemen and called for constructive support from all parties for a lasting solution, Azernews reports, citing Anadolu Agency.
"We welcome the talks hosted by Saudi Arabia in Riyadh with the participation of Oman aimed at advancing the peace process in Yemen and call on all parties to constructively support the peace process to achieve a lasting solution in Yemen," the Turkish Foreign Ministry said in a statement.
"Türkiye will continue to resolutely support the preservation of the national unity and territorial integrity of brotherly Yemen," it added.
Saudi Arabia on Sept. 14 invited a Houthi delegation for peace talks in the Kingdom, according to the Saudi Foreign Ministry.
Yemen has been engulfed by violence and instability since 2014, when Iranian-aligned Houthi rebels captured much of the country, including the capital Sana'a.