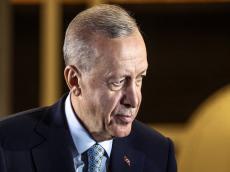 Turkish President Recep Tayyip Erdogan on Wednesday discussed the situation around the Kakhovka Hydroelectric Power Plant with his Ukrainian counterpart Vladimir Zelensky over the phone and suggested forming an international commission to investigate the incident with Russia's participation, the Turkish leader's office reported, Azernews reports, citing TASS.
"President Erdogan said that a commission with experts from the opposing sides [Russia and Ukraine], the UN and the international community, including Turkiye, could be established to conduct a thorough investigation into the explosion at the Kakhovka Hydroelectric Power Plant," the office said in a statement.
Erdogan pointed out that "Turkiye is ready to do everything in its power in this matter," and "that it is possible to use the mechanism of negotiations [to resolve the issue], as in the case of the grain corridor."
"President Erdogan stressed that as long as the conflict continues, it is impossible to prevent humanitarian losses, so the idea of returning to negotiations must remain at the forefront. Turkiye will continue to make determined efforts to establish a just peace," the office said.
On Tuesday night, Ukrainian forces delivered a strike on the Kakhovka Hydroelectric Power Plant (HPP), presumably from an Olkha multiple launch rocket system (MLRS). The shelling destroyed the hydraulic sluice valves at the HPP's dam, triggering an uncontrolled discharge of water. In Novaya Kakhovka, the water level exceeded 12 meters at one point, but is now receding. There are currently 15 population centers in the flood zone; residents of nearby towns and villages are being evacuated. The collapse of the hydro plant's dam has caused serious environmental damage. Farmlands along the Dnieper River have been washed away, and there is a risk that the North Crimean Canal will become shallow.
Kremlin Spokesman Dmitry Peskov described the attack on the Kakhovka HPP as a deliberate act of sabotage by Ukraine. He added that the Kiev regime should bear full responsibility for the consequences.