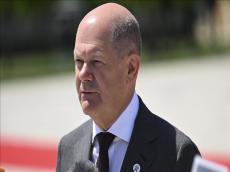 Chancellor Olaf Scholz on Monday visited German navy headquarters in Rostock, and observed a multinational exercise in the Baltic Sea, amid heightened tensions with Russia, Aznews reports, citing Anadolu Agency.
Scholz watched the naval exercise from the German frigate Mecklenburg-Vorpommern, and took a briefing from navy commanders on maritime security, protection of critical infrastructure, and capabilities of the naval force.
Besides German navy ships and submarines, warships from NATO allies France, Spain and Portugal also participated in the naval exercise.
German frigate Mecklenburg-Vorpommern was deployed in the region at the beginning of this year, after Germany assumed leadership of NATO's Very High Readiness Joint Task Force (VJTF) for 12 months.