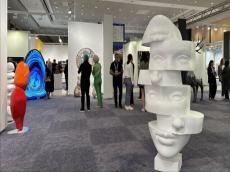 Istanbul's thriving contemporary art scene has converged on the heart of the cultural hub in vibrant display, giving emerging artists an opportunity to blossom, Azernews reports, citing Yeni Safak.
The highly anticipated modern art fair, CI Bloom, is having its second edition that began Thursday and is slated to continue through the weekend.
Ali Gureli, chair of the event's organizer and one of the city's leading art fairs Contemporary Istanbul, told reporters last week that this year's exhibition gathers 25 art galleries and four arts initiatives.
Sheltered from hustle and bustle of the city outside, the event is taking place at the ICEC Rumeli Hall and features some of the city's leading galleries, showcasing 420 works of art from 266 up-and-coming artists.
With a focus on contemporary and digital art as well as architecture, CI Bloom says it offers "invaluable insights into the current trends and challenges facing the art world."
Speaking to Anadolu during a preview visit on Wednesday, Bugra Uzuncelebi said CI had set up this event with the aim of "promoting Turkish art, especially local artists and galleries from Türkiye, to wider audiences."
Uzuncelebi is the director of, an art gallery based in Istanbul's iconic Karakoy district representing around 40 artists, focusing on modern Armenian art.
Galeri 77 is joining CI Bloom with 34 works of art from 25 artists, Uzuncelebi said, adding that among those being showcased are local artist Sedat Girgin, a favorite of Turkish collectors, and textile artist Bayram Demir. A selection of Armenian artists including Vav Hakobyan and Daron Mouradian are also on the scene, he said.
The exhibition had already aroused much interest even before its main event kicked off, with a work by Turkish artist Mesut Karakis, who specializes in abstract art, already sold by Wednesday, when only VIP visitors were allowed on the grounds.
Karakis wields extraordinary technique, eschewing the conventional brush in favor of an acrylic method that involves layering colors on canvas — an intricate process repeated meticulously 70 to 80 times, Uzuncelebi said, adding that this innovative approach reaches its peak at the stage of his deft scrapes with the help of water and sandpaper.
Surreal, minimal, neo-pop works of art are on display, as are numerous other styles and techniques, he said, with Edgar Grigoryan, an Armenian artist who makes sculptures from parts of used household appliances, radios, TVs, and other materials, also featured.
Prices go up to $70,000, though many vary between 10,000-20,000 Turkish liras ($500-1,000), according to Uzuncelebi.
- This year's 1st: Art initiatives
Another gallery representative at the event was Nagihan Uzel of Soda Istanbul, which has been located in the upscale neighborhood of Nisantasi for the last 13 years.
While dubbing CI Bloom as "a great opportunity for young artists," Uzel says it holds appeal for many others on the art scene as well.
"It's really not just for young artists, but for exhibitors, galleries, anyone else involved with the arts. Here, you can reach a number of visitors that we couldn't gather in a year."
Soda Istanbul's stand exhibits works by artists like Gerard Mas, Frank Plant, Samuel Salcedo, Efrahim Rodriguez, and Seo Young Deok.
According to Uzel, visitors are "very interested," and are asking questions about the material of the works or their stories.
Soda Istanbul's remarkable collection offers a range of captivating artwork available for purchase, with prices spanning from an accessible €7,000 ($7,508) to exclusive pieces valued up to €60,000.
Apart from art galleries, CI Bloom extends its support to various art initiatives, including Sub, an innovative creative endeavor based in Türkiye's northwestern Canakkale province.
Ilayda Tunca of Sub told Anadolu they had been working on collective projects in the northwestern province of Canakkale for the last five years. "We make art to raise awareness about collective projects and the climate crisis."
"Unlike the galleries, we were invited to attend for the event first time," she added.
One of the projects Sub is exhibiting at CI Bloom is called "From where to where?" the world's largest upside-down world waterway map, she explained.
The project consists of works from artists of different mediums and was co-curated by Tunca and Melih Aydemir in 2021.
"Painted with indigo pigment on an eight-square-meter fabric," reads a statement from the initiative's Instagram page. The map "turned today's western-centered perception of the world upside down and reproduced the image of it through a single signifier (water)."
Asked about their experience attending CI Bloom, Tunca expressed the team's delight: "This is the first time we have had so many viewers."
"What we do is not very mainstream and being included in the mainstream was always a question mark for us," she said.
So far, they say they've met "very nice people" and hope for new collaborations in the future.