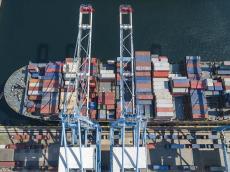 World trade is slowing sharply due to monetary tightening by central banks, fading fiscal support by governments, and weak demand for consumer goods, Fitch Ratings said Thursday in a report, Azernews reports, citing Anadolu Agency.
Despite a strong recovery in the post-pandemic period in 2021 and 2022, the volume of global goods trade is now falling, said the rating agency.
This is partially offset by a recovery in services trade, such as tourism and transportation, but services represent only 22% of total trade and fail to fully support growth in total trade, it added.
"Supply-chain bottlenecks are no longer a key constraint on trade flows. The recent slowdown in trade now seems more a reflection of slowing demand," the report said.
"US and global demand for consumer goods is weakening, which reflects the phase-out of US consumer-focused fiscal stimulus, monetary tightening and the rebalancing of demand back towards services after the lifting of Covid-19 restrictions," it added.
The rating agency said it expects global trade to grow 1.9% this year, significantly down from 5.5% last year.
It also estimates global economic growth to come in at 2% in 2023, down from 2.7% in 2022.
"Trade growth seems unlikely to outpace GDP in the medium term, as globalisation stalls," it noted.