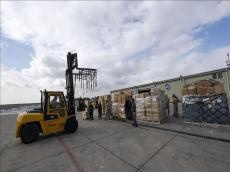 Australia on Monday announced that it will provide an additional $29 million to humanitarian partners to respond to the growing food security crisis and to assist vulnerable people in the Middle East and Africa, Azernews reports, citing Anadolu Agency.
The package includes $15 million to address increased humanitarian, displacement, and protection needs of people in drought-affected areas in Ethiopia, Kenya, and Somalia, $4 million to provide food and nutrition support to the most vulnerable in Yemen, and $10 million for food and monetary assistance to refugees and vulnerable populations in Lebanon and Jordan, said Penny Wong, Australia's foreign minister, in a statement.
"Since the COVID-19 pandemic, there has been a dramatic rise in the number of people at risk of acute food insecurity, increasing to 350 million people globally," she said, adding that Canberra is "deeply" concerned for those impacted by conflict, those facing extreme hunger, and the consequences of crises on global stability and security.
This package, she went on to say, builds on humanitarian support already delivered, including $25 million in emergency assistance announced in February to respond to growing global food insecurity and humanitarian crises affecting Ethiopia, Kenya, Somalia, Yemen, and Pakistan.
Australia has also committed $6 million to support those affected by the conflict in Sudan.
"Australia is using all elements of our national power to shape the world for the better, including by providing humanitarian assistance to the most vulnerable," she added.???????