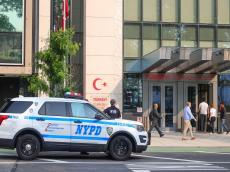 The U.S. police detained the perpetrator who attacked the Turkish House (Türkevi) in New York City on Friday, Azernews reports, citing DailySabah.
The suspect, Recep Akb?y?k, was apprehended by the New York Police Department (NYPD) in the early morning hours on Friday, sources told Anadolu Agency (AA).
Authorities identified the assailant Wednesday who smashed the windows of the building, also known as Türkevi Center, with a crowbar on Monday.
The center houses diplomatic missions such as Türkiye's U.N. Mission and New York Consulate General.
Turkish authorities strongly condemned the attack and urged U.S. counterparts to provide necessary protection to ensure the safety of its diplomatic missions.
An investigation into the suspect is still going on, the sources said.
The Turkish House, a skyscraper housing Turkish diplomatic missions in New York, came under attack on Monday. The assailant carrying an iron bar shattered the windows of the ground floor of the building, AA reported. The incident occurred at 3:14 a.m. local time and was reported to the NYPD. Police sealed off the entrance of the building and launched a probe.
Some media outlets reported it was an act of terrorism and pointed out that it occurred as voting for the second round of Turkish elections commenced for Turkish expatriates. The Turkish House hosts a polling station for overseas voters.