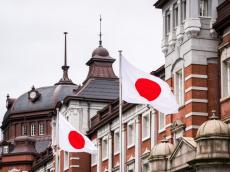 As part of its new package of sanctions, the government of Japan has prohibited exports of radioactive materials, vaccines, medical goods and robots to Russia, the Japanese Ministry of Economy, Trade and Industry said in a statement on Friday. 
The ban also includes equipment for atomic facilities and for oil and gas prospecting. It also bars exports of various chemicals, including tear gas and fingerprint powder.
Overall, the new list has over 80 entries. The measures will come into force on February 3.
Japan has so far imposed several sets of sanctions over the Ukraine crisis, which target more than 900 individuals and over 50 entities. Tokyo has also frozen the assets of Otkritie Bank, Novikombank, Sovcombank, VTB, Rossiya Bank, Promsvyazbank, VEB.RF, Sberbank and Alfa-Bank as well as of about 40 Russian organizations and companies.
The list of goods and technologies prohibited for export includes some 500 items. Among them are semiconductors, communications equipment, software, oil refining equipment, cargo vehicles, and processing machines. Exports of luxury items to Russia, as well as Russian gold imports, were also banned. In addition, some chemicals, such as chlorine, methanol, acetone, ethylene, and sodium hypochlorite, were prohibited for export to Russia.