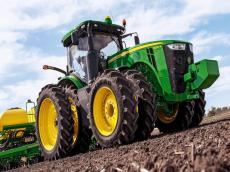 By Azernews
By Abdul Kerimkhanov
American company will supply agricultural equipment to Turkmenistan.
The signing of a relevant memorandum between the government of Turkmenistan and American company John Deere International Gmbh took place on November 12.
President of Turkmenistan Gurbanguly Berdimuhamedov held a working meeting on the development of sectors of the national economy and the socio-cultural sphere, as well as the progress in the implementation of comprehensive reform programs.
During the meeting, the Deputy Chairman of the Cabinet of Ministers Orazgeldiev spoke about the seasonal agricultural work carried out in the country. At present, according to him, cotton picking continues in the welayats, the necessary agrotechnical measures are being taken to take care of winter wheat crops.
The technical park of the domestic agro-industrial complex is regularly updated. The relevant memorandum was signed between the government of Turkmenistan and American company John Deere International Gmbh, the deputy prime minister said.
After hearing the report, the head of state instructed to implement projects on expanding existing and building new reservoirs, other hydraulic structures, including desalination plants at places of demand for it, as well as introducing modern methods of irrigation into agricultural production, advanced technologies of rational water use, improvement of land reclamation state.
He also instructed to accelerate the collection of cotton in the fields and pay attention to the storage conditions of the harvested crop.
The total trade and economic turnover of Turkmenistan and the U.S. in the first half of 2018 has increased by more than 27 percent. Some 156 projects totaling more than $2.5 billion have already been implemented in Turkmenistan with the participation of U.S. companies.
In January-July 2018, the trade turnover between the U.S. and Turkmenistan amounted to $ 18 million. During this period, U.S. exports totaled $ 11.7 million, while imports of products from the Central Asian country made only $ 6.3 million. In 2017, the total trade turnover reached $ 282.2 million.
The American companies operate on the Turkmen market in such areas as transportation, the fuel and energy complex, construction of power plants, sphere of telecommunications, software support, and the food industry.