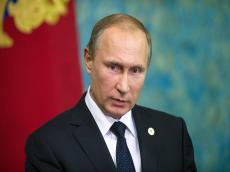 By  Trend
Russian President Vladimir Putin expressed condolences to the Iranian government and nation over a deadly attack in the city of Ahvaz in the southwestern Iran, RT Arabic, formerly known as Rusiya Al-Yaum, reported.
In a telephone conversation with his Iranian counterpart Hassan Rouhani on Sept. 22, Putin further said that Moscow is ready to boost its anti-terror cooperation with Tehran, media reports said.
During the military parade in Ahvaz, which was staged concurrently with nationwide military parades on Saturday to mark the Sacred Defense Week, militants opened fire at the people participating in the ceremony.
Deputy Governor of Khuzestan Province Ali Hossein Hosseinzadeh told Tasnim that the number of martyrs is likely to increase because some of the wounded were in critical condition.
He also said that the security forces managed to kill two of the terrorists in the clash and arrest the other two.
Iran's Armed Forces staged the countrywide military parades to mark the Sacred Defense Week on the 38th anniversary of the onset of the Iraqi imposed war on the Islamic Republic back in 1980.