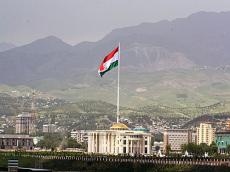 By  Trend
A trade and economic mission, organized by the Foreign Trade Chamber of Kazakhstan will be held from 9 to 12 August in Dushanbe, Kazinform reported citing the Chamber.
The Foreign Trade Chamber of Kazakhstan invites potential exporters to participate in the event. Already 20 large commodity producers have confirmed their participation in the mission. Among them are Amitech Astana, Aqua Alliance, IT & M, Mega SMART, Nedex Almaty, Aktyubinsk Rail Plant and Kentau Transformer Plant, Tsesna-Astyk LLP and others.
The purpose of the mission is to promote the export of processed Kazakh products and services to the Tajik market.
"It is necessary to make Kazakh products and services easily recognizable, distinct from similar products of other manufacturers," the message reads.
The Tajik side will be represented by the Ministries of Transport, Economic Development, Finance, Industry and Energy, as well as by leasing and private transport companies, trade networks and other firms.
In the future, the Foreign Trade Chamber will continue to represent the interests of Kazakhstan's business in the foreign economic sphere.