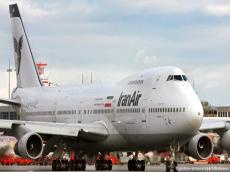 By  Trend
Tehran will soon file a complaint with the international court of justice and other international tribunals against Boeing after the American aerospace giant said it would not deliver aircraft to Iran due to the threat of new US sanctions, an Iranian lawmaker said.
Such a move by Boeing cannot undermine our determination and Americans cannot harm us this way, Seyed Taghi Kabiri, a member of the Iranian Parliament's Economy Commission, said on Friday, Tasnim news agency reported June 8.
He added that the Islamic Republic would lodge a complaint against Boeing and follow up on the issue with relevant international and judicial tribunals.
On Wednesday, a Boeing spokesman said, "We have not delivered any aircraft to Iran, and given we no longer have a license to sell to Iran at this time, we will not be delivering any aircraft".
"We did not factor the Iran orders into our order backlog either."
Boeing in December 2016 announced an agreement to sell 80 aircraft valued at $16.6 billion to Iran Air. Boeing also announced a contract in April 2017 to sell Iran Aseman Airlines 30 Boeing 737 MAX aircraft for $3 billion, with purchase rights for another 30 aircraft.
In a speech from the White House on May 8, Donald Trump accused Iran of sponsoring terrorism and seeking nukes before announcing the US withdrawal from the nuclear agreement between Iran and the Group 5+1 (Russia, China, the US, Britain, France and Germany).
Trump also said he would reinstate US nuclear sanctions on Iran and impose "the highest level" of economic bans on the Islamic Republic.
The new US sanctions will take six months to kick in, but a number of European companies have already halted their businesses in Iran despite verbal pledges by their governments to protect them against any fallout.