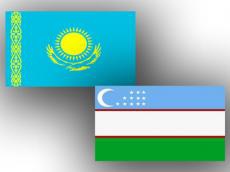 By Azernews
By Kamila Aliyeva
Uzbekistan and Kazakhstan intend to create a joint transport and logistics company for the development of the trade and economic corridor Shymkent-Tashkent, Podrobno.uz reported.
"It is planned that within the framework of the work of this company, in particular, a "green corridor" for freight transport, which is serviced in logistics centers of both countries, with an expected volume of transportation of 250,000-400,000 tons per year, will be organized," the press service of the Development Bank of Kazakhstan said.
Earlier this year, Uzbekistan and Kazakhstan agreed to take further concerted measures to ensure the growth of trade turnover to $ 3 billion in 2018 and $ 5 billion by 2020. The countries also intend to increase the number of rail, bus and air communication between two states.
The parties are also discussing the possibility of building an international Cross-Border Cooperation Center, a transport and logistics center (Dry Port) in the border areas of Kazakhstan and Uzbekistan.
The trade turnover between the countries in 2017 amounted to $ 2 billion, which is 31.2 percent more compared to 2016. Exports from Kazakhstan to Uzbekistan in 2017 increased by 35 percent and totaled $ 1.3 billion. Imports to Kazakhstan from Uzbekistan increased by 25.1 percent and reached $ 735.2 million.  Over 200 companies with Kazakh capital currently operate in Uzbekistan.
It should be noted that 2018 is declared as the year of Uzbekistan in Kazakhstan whereas 2019 will be the year of Kazakhstan in Uzbekistan.