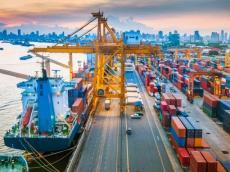 By  Trend
The next meeting of the participants of the Trans-Caspian International Transport Corridor (TITR) International Association will be held in June in Almaty, said Chairman of Kazakhstan Railways (KTZ) Kanat Alpysbayev May 8 during a general meeting of the TITR International Association.
"At the next meeting of the TITR International Association, I think we will be able to get acquainted with the results of work on the development of TITR for the first half of 2018. We see great potential in the development of TITR and increase in cargo turnover between the member countries of the Association, and believe that this will bring significant benefits to a big number of countries and organizations. We, in turn, are supported by the heads of our states, and we must do everything necessary to perform all tasks," said Alpysbayev.
On May 8, Baku hosted a meeting of the TITR International Association, during which the members of the Association signed a final protocol approving tariffs for the transportation of coal and grain, oil seeds and legumes. Also two new members were admitted to the TITR International Association - Anaklia Development Consortium LLC (Georgia) and KazMorTransFlot LLP (Kazakhstan).
The document was signed by Javid Gurbanov, Head of Azerbaijan Railways CJSC, David Peradze, Director General of Georgian Railways JSC, Kanat Alpysbayev, Chairman of Kazakhstan Railways CJSC, Rauf Veliyev, Head of Azerbaijan Caspian Shipping Company, Martin Voetmann, manager for commercial and administrative issues at Aktau Sea Trade Port, Taleh Ziyadov, Head of Baku International Sea Trade Port, Ilyas Mukatov, Deputy Director General of Batumi Sea Port, Veysi Kurt, General Director of Turkish Railways, and Yevgeniy Kravtsov, Head of Ukrainian Railways PJSC.