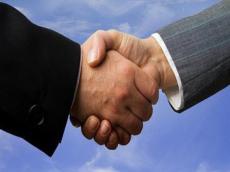 Uzbekistan and Tajikistan discussed issues of regional security at a meeting between Chairman of the State Security Service of Uzbekistan Ihtiyor Abdullaev and Chairman of the State Committee of National Security of Tajikistan Saymumin Yatimov in Tashkent, Uzbek media reported on April 17.
Heads of the special services discussed fighting the international terrorism, religious extremism, illegal trafficking of drugs and weapons.
"The parties discussed priority areas in ensuring regional security... A special attention was paid to neutralizing common threats to state security," the press office of the Uzbek special service said.
Abdullayev earlier said that the activation of terrorist groups in the north Afghanistan, as well as the return of militants from the Middle East to Uzbekistan are new threats to the security of the republic. According to him, opening borders with neighboring countries also leads to increasing attempts to smuggle religious extremist literature, drugs and weapons into the country.
Three more checkpoints on the border between Uzbekistan and Tajikistan were opened apart from the three previously functioning checkpoints since March 1 after a long break. The visa regime, which was in force since 2001, was abolished on March 16. Citizens of the two countries can travel to each other without a visa for 30 days.