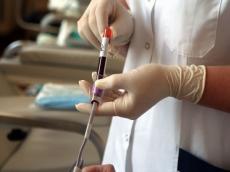 By  Trend
Head of Mahabad Blood Transfusion Office Davoud Nasr said on Monday that Mahabad base has European standard to produce and export blood products, and added that 3,000 liters of blood plasma had been exported from Mahabad to Europe last year, Irna reported.
Nasr told the Islamic Republic News Agency (IRNA) that this amount of plasma was delivered to the Austrian Company of Octapharma, as representative of the European Union.
Nasr said that Mahabad ranked first in blood donation in West Azarbaijan province cities and last year 20,000 units of blood were donated in this town.
He said that total number of blood donators in Mahabad over last year were 12,311 men and 344 women, which shown 12 and 17 percent increases, repectively in comparison with the preceding year.
The office produces also other blood products.
Mahabad with a population of 237,000 persons is located in southwest of Azarbaijan province.