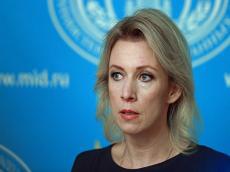 By  Trend
Further anti-Russian sanctions the United States is looking at are meant to punish Russia for the mere fact of its being a global player, with no particular events cited as a reason, Russian Foreign Ministry Spokeswoman Maria Zakharova said on Sunday, TASS reported.
"I can really confirm that the sanctions are to be imposed on Russia without any link to any realities. If earlier they used to say they punished us for Ukraine, now the wording has been changed dramatically: now they punish us for the mere fact of being on the global arena," she said in an interview with the Voskresny Vecher s Vladimirom Solovyovym (Sunday Evening with Vladimir Solovyov) program on the Rossiya-1 television channel.
"This is exactly how they worded these sanctions: for Russia's role in international affairs," she stressed.