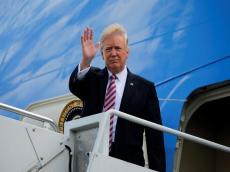 By  Trend
Officials confirm that US president will break with decades of diplomacy in a move many warn will trigger unrest in the region, The Guardian reports.
Donald Trump will declare formal recognition of Jerusalem as the capital of Israel on Wednesday the White House has said, breaking with years of precedent and potentially leading to unpredictable consequences for the Middle East.
The region is braced for the prospect of unrest in anticipation of the declaration, due at 1pm in Washington, and US embassies around the world have been advised by the state department to bolster their security.
US government employees have been told to avoid Jerusalem's Old City and the West Bank until further notice.
In his remarks to be delivered in a diplomatic reception room in the White House, Trump will base his decision on ancient history and current political realities that the Israeli legislature and many government offices are in Jerusalem. He will also order the state department to start the process of planning and building a new US embassy in Jerusalem, but White House officials said that process would take at least three years.
Until the new embassy is completed and opened, the official US mission will remain in Tel Aviv and the president will continue to sign a six-month waiver of congressional legislation that demands the embassy is moved, but only to spare the state department from budget penalties embedded in the 1995 act.