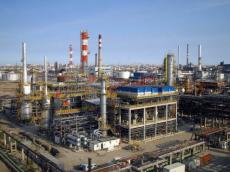 By Azernews
By Kamila Aliyeva
Kazakh Energy Minister Kanat Bozumbaev believes there is no need for the construction of the fourth oil refinery in the country, Kazinform reported.
"In my opinion, the fourth oil refinery is not needed. The modernization of the three KazMunaiGas plants is being completed, and the modernization of the Atyrau and Pavlodar plants should be completed this year. The modernization of the Shymkent refinery will be completed next year," Bozumbaev said on the sidelines of Kazakhstan Global Investment Roundtable devoted to the issues of investments into the economy of Kazakhstan on December 5.
After that, Kazakhstan will be able to ensure provision of the economy with gasoline, diesel fuel and aviation kerosene for 100 percent in the next 5-6 years, the minister said.
"In 2024-2025 we will have to double the expansion of one of the plants or build the fourth factory. Because the demand is growing," he added.
Currently, modernization work is underway in all three large refineries of Kazakhstan (Atyrau, Shymkent and Pavlodar).
The refining capacity of all the three plants will increase from 13.8 to 16.5 million tons after modernization of the refinery completes. Production of all types of light oil products, gasoline, diesel fuel and aviation kerosene will increase. All plants will produce gasoline for 2.3 million tons more. The production of diesel fuel will increase for 917,000 tons and aviation kerosene for 539,000 tons.