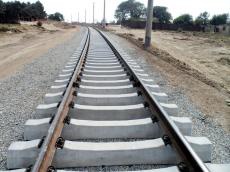 By Azernews
By Kamila Aliyeva
The first container train which delivered the Kazakh grain to the Turkey's Mersin set off in the opposite direction, according to the press service of Kazakhstan Temir Zholy.
"On November 28, from the city of Mersin (Turkey), loading and dispatching of containers arrived from Kokshetau station to the port of Mersin via the new Baku-Tbilisi-Kars railway was carried out," the report said.
In the beginning of November from the Kazakhstan station Kokshetau the container train with the tared grain consisting of thirty 20-foot containers belonging to Kazakhstan Temir Zholy JSC went to Mersin. The train, having covered a distance of 5,435 kilometers in 10 days, passed through the ferry port of Kuryk to the Alyat port in the Caspian Sea, and then via the newly constructed Baku-Tbilisi-Kars railway line with the reloading of containers from the wide gauge rail to the narrow on the new Georgian-Turkish border crossing of Akhalkalaki-Kars.
The solemn ceremony the train's departure in the direction of Azerbaijan and Turkmenistan through the territory of Kazakhstan was attended by the Governor of Mersin, deputies, heads of the Turkish railway, customs authorities, as well as transport companies.
The participants of the ceremony expressed interest in the export of Turkish goods in the direction of China through the territory of Kazakhstan.
Transshipment of containers from broad gauge wagons to narrow gauge wagons was carried out at the new border point - Akhalkalaki-Kars.
"The demand for comprehensive multimodal services is growing," a representative of KTZ Express JSC said noting that "the main advantage of the route is the shortening of goods delivery terms up to 10 days and a competitive transportation price," Kazinform reported.
The official opening ceremony of the BTK railway was held in Baku on October 30. The BTK railway was constructed on the basis a Georgian-Azerbaijani-Turkish intergovernmental agreement.
The railway's peak capacity will be 17 million tons of cargo per year. At an initial stage, this figure will be one million passengers and 6.5 million tons of cargo.