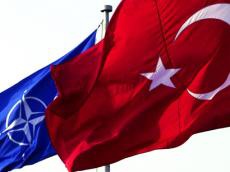 By Azernews
By Kamila Aliyeva
North Atlantic Treaty Organization (NATO) may no longer be considered as a reliable ally for Turkey.
The distance between Turkey and North Atlantic Treaty Organization (NATO) is becoming irresistible on the background of the recent events related to the military exercises held in Norway.
It is not difficult to imagine that the forthcoming period will be full of even more serious tests for Turkey, the country's President Recep Tayyip Erdogan said, Turkish media outlets reported on November 20.
He noted that what happened during the NATO exercises held in Norway was directed not only against his personality, but also against Turkey as a whole.
"Given this, Turkey is prepared for anything," the Turkish leader said.
Meanwhile, Turkish presidential aide Yalchin Topcu stated that it's time to reconsider the issue of Turkey's membership in NATO.
The Turkish parliament must consider Ankara's membership in this organization as soon as possible, he said.
NATO is the culprit of the fact that Turkey in the defense sphere depends on other countries, according to Topcu.
"NATO, unfortunately, is hostile to Turkey," he said.
Earlier, NATO Secretary General Jens Stoltenberg and Norwegian Defense Minister Frank Bakke-Jensen have apologized to Turkey over the incident.
Turkey withdrew its forty servicemen participating in drills at NATO's joint warfare centre in Stavanger, Norway, due to the fact that photos of Turkey's incumbent president, as well as first president Mustafa Kemal Ataturk were placed as conditional enemy images on the shooting range as part of the military exercises.
Erdogan previously said that such behavior does not correspond to the spirit of cooperation and alliance between Turkey and NATO.
The joint warfare centre is a multinational NATO unit based in Stavanger, 300km south-west of Oslo. It has a staff of 250 made up of civilians from 11 NATO member states, including Turkey.
In March, the Norwegian government caused fury in Turkey by granting political asylum to five Turkish officers based in Norway who had refused to return home after the failed July 2016 coup attempt in Turkey.