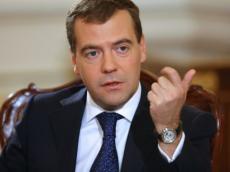 By Azernews
By Kamila Aliyeva
Russia is interested in creating efficient routes for transit of cargo between Europe and Asia.
This was stated by Russian Prime Minister Dmitry Medvedev at the ASEAN business and investment summit in Manila, Philippines, on November 13, TASS reported.
"The main goal of these efforts is to make the transit of goods along the Asia-Europe route as fast as possible, economically viable and to form a powerful transport hub in the Russian Far East, which will help meet the needs of the entire Asia-Pacific region," he said.
The prime minister noted that the trade turnover between Russia and the ASEAN economic community so far amounts to around $15 billion per year.
"The potential can be much larger, more at times and potentially dozens of times," Medvedev said.
ASEAN — Russia dialogue was launched in July 1991 when Russian representatives were invited to attend an ASEAN Ministerial Meeting. Russia was subsequently elevated to a full Dialogue Partner of ASEAN in July 1996 at the 29th ASEAN Ministerial Meeting in Jakarta.
The Russia — ASEAN Business Council was established in 1998 to promote economic cooperation. The council's experts monitor the economic environment in regional countries, assess priority cooperation avenues and facilitate the creation of negotiation venues. The council members also help select business partners and assist the work of the Russian Chamber of Commerce and Industry in the region.
The Business Council also attracts professional investors from ASEAN member states to Russia and selects investment projects in ASEAN member states on favourable terms for Russian companies.
In 2014, the ASEAN — Russia trade turnover reached $22.5 billion, while Russia's foreign direct investment in the region came in at $698 million in 2012-2014.