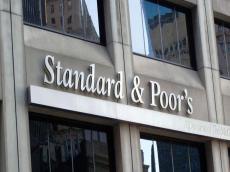 By  Trend
S&P Global Ratings has revised its outlook on ForteBank JSC to positive from stable and affirmed its 'B/B' long- and short-term issuer credit ratings.
At the same time, S&P Global Ratings raised its Kazakhstan national scale rating on the bank to 'kzBB+' from 'kzBB'.
"The rating actions reflect our view that ForteBank has made progress in strengthening its market share, generating new good-quality business, and recovering legacy problem loans," reads a message of the agency.
"The bank's position in the Kazakh banking system has strengthened; it is now the fifth-largest bank in terms of total assets. ForteBank also has a more balanced mix of corporate, small and midsize enterprise, and retail customers on both sides of its balance sheet compared to other medium-sized peers, and good sector and single-name diversification in its loan portfolio, which is positive for risk and returns diversification. The bank is mainly funded by customer deposits with a good balance of individuals and corporations, including government-related entities."
S&P Global Ratings further stressed that the bank's creditworthiness could be further boosted if it sustains or augments its market share, maintains a diversified customer profile, and further improves its profitability metrics over the next 12-18 months.
"We continue to view ForteBank's capital and earnings position as moderate. This assessment reflects our expectation that our risk-adjusted capital (RAC) ratio for ForteBank could decrease to about 6.3% by year-end 2018 compared to 6.5% at year-end 2016 in view of increased provisioning," reads the message.
"ForteBank's asset quality is weaker than peers', in our view, reflecting its higher level of nonperforming loans (NPLs; loans over 90 days overdue) and lower provisioning rate on both legacy and new NPLs. Overall, the bank's NPLs accounted for 25.8% of total loans at mid-2017, which is one of the highest ratios in Kazakhstan. Of NPLs, 83% related to loans disbursed before October 2014. NPLs on new loan production over the past three years were only 5.8% as of mid-2017, which compares favorably to peers. The legacy portfolio reported a provisioning coverage of NPLs of 28% at mid-2017, which is insufficient in our opinion. We note, however, that NPLs that were not covered by provisions were fully covered by collateral."
S&P Global Ratings consider ForteBank's funding to be average, reflecting the diversified profile of its funding base, strong positive dynamics of the deposit base over the past three years, and a stable funding ratio of 150% as of mid-2017.
It added that the bank's liquidity is sufficient and well-managed.
The positive outlook also reflects expectation that the bank's track record of generating new business, augmenting its market share, and recovering problem loans will continue over the next 12 months.