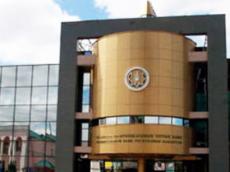 By Azernews
By Kamila Aliyeva
Kazakhstan's National Bank noted a high probability of strengthening the tenge rate by the end of the year.
Currently, the situation on the foreign exchange market is completely stable, according to chairman of the National Bank Daniyar Akishev, Kazinform reported
"The exchange rate fluctuates within the limits that have historically been formed taking into account oil prices and exchange rates of trading partner countries. We do not see any prerequisites for significant exchange rate adjustments," he told journalists after the meeting of the Government of Kazakhstan.
Moreover, by the end of the year, exporters will increase supply of foreign currency through tax payments, thus making the strengthening of tenge more likely, according to the chairman.
Previously, he said that the foreign exchange market stabilized in October. The tenge strengthened by 1.9 percent for the month and its weakening since the beginning of the year was insignificant - 0.4 percent.
Earlier, Kazakh National Bank forecasted the inflation rate in the country to decrease to 6.5-7 percent in 2017, and to begin to smoothly enter the target range of 5-7 percent in 2018. Slowdown of inflation will occur on account of a decrease in inflation expectations, an enhancement of stability and predictability of the situation on domestic money market, as well as an adoption of moderately restrictive monetary policy in 2017.
The Bank also predicted that economic growth in Kazakhstan will accelerate to 2.2 percent in 2017 and to 4.7 percent for the nine months of 2018. 
Economic growth in this period will be provided due to the growth in domestic consumption amid raising real wages, the growth of investment in fixed assets as part of implementing government programs to support and diversify the economy, and the growth of production of mineral resources (the Kashagan effect).