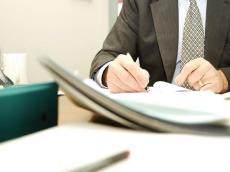 By  Trend
In Uzbekistan, it is planned to transform state notary offices into private ones starting from January 1, 2018, according to the draft decree of the country's President Shavkat Mirziyoyev "On measures for reforming institution of notary in Uzbekistan."
The draft decree provides for phased transition to private notary and its further improvement as an institution for prevention of civil and economic disputes.
Transformations are planned in order to enhance the role and significance of the institution of notary in protecting the rights and legitimate interests of individuals and legal entities, as well as improving the quality of notary services rendered to the Uzbek population.
It is planned to actively introduce modern information and communication technologies in the activity of notary offices and notarial archives, provide interactive public services through the use of mechanism of interagency electronic interaction.
The responsibility of notaries to individuals and legal entities will increase due to the introduction of compulsory insurance of their civil liability.
It is planned to create a self-regulatory organization, the Notary Chamber of Uzbekistan, based on the mandatory membership of all notary offices.
Starting from July 1, 2018, it is also planned to cancel the requirement of providing certificates in paper form on the absence of arrears for electricity, natural gas, heating, water supply and sanitation services when notarizing real estate transactions throughout Uzbekistan.