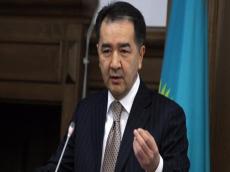 By  Trend
Prime Minister of the Republic of Kazakhstan Bakytzhan Sagintayev disclosed forecasts regarding the oil revenues of the state treasury in the next few years.
"Oil output is expected to increase by 2020 following the development of the Kashagan field. We estimated the production of 84.5 million tons of oil this year, however figures illustrate that the production will be even higher," said Sagintayev, Kazinform reports.
He added that the expectation on oil output by 2020 is more than 87 million tons per year.
"Certainly, increase in oil output will be mainly caused by the Kashagan field, which is expected to double the production from 6 to 13 million tons per year," the PM stated, adding that supply of oil to refineries will also increase after a complete modernization of the country's three main refineries.
Sagintayev stressed that despite the stabilization of oil prices and the growth in oil production, the revenues of the National Fund will decrease, because some of the oil producing companies will pay relevant taxes only after achievement of a real payback under the production sharing agreement.