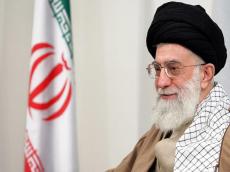 By  Trend
Iran's Supreme Leader Ayatollah Ali Khamenei called on the EU to stand against the US in the nuclear deal issue.
"European states stressed their support for the JCPOA (aka nuclear deal) and condemned the remarks made by the US President Donald Trump. We welcomed this, but this is not enough," Khamenei told a meeting with a group of outstanding university students on Oct. 18, the leader's official website reported.
Europe, firstly, needs to stand against the US' practical measures regarding the JCPOA, Khamenei said, adding, "Secondly, they should not interfere the Islamic Republic's defense issues."
He further said that "West? has no right to ask why Iran is present in the region, or why Iran has missiles. It's not their business! Why do you have missiles?"
If the European side repeats the same demands about Iran's presence in region or its missile program, the Islamic Republic will not accept that, he added.
Khamenei further said that the US is angry because the Islamic Republic has managed to spoil its plots in Lebanon, Syria, Iraq and etc.
Reacting to President Trump's decertification of the nuclear deal and threats to walk away from it, Ayatollah Khamenei stressed that "if US rips up the deal, Iran will tear it into shreds."
Khamenei argued that the "US would once again taste defeat at the hands of the Iranian nation."