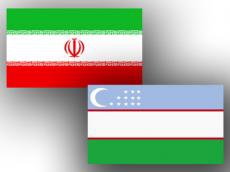 By Azernews
By Kamila Aliyeva
Tehran and Tashkent intend to further increase trade turnover between the two countries.
Uzbek delegation headed by the Foreign Minister Abdulaziz Kamilov held a meeting with Iran's Minister of Industry, Mines and Trade Mohammad Shariatmadari in Tehran on October 17.
"During the talks, attended by Uzbek Foreign Trade Minister Elyor Ganiev and other members of the delegation, it was noted that one of the priority areas of Uzbek-Iranian relations is the increase in volumes and diversification of bilateral trade as well as bringing the investment cooperation to a higher level," according to the Uzbek Foreign Ministry, podrobno.uz reported.
The parties discussed in detail the prospects for deepening cooperation in the transport and communication field.
The readiness to develop relations within the framework of the agreement on the international transport corridor Uzbekistan-Turkmenistan-Iran-Oman was confirmed at the meeting.
"The sides also exchanged views on the agenda of the forthcoming meeting of the intergovernmental commission on trade, economic, scientific and technical cooperation in Tehran," the source said.
Uzbekistan's trade turnover with Iran in the first half of 2017 was $166.3 million. This indicator is not high compared to the results of previous years, but the recent talks on further expansion of the trade cooperation between the presidents of the two countries illustrates mutual intention to increase the number of economic deals.
Uzbekistan exports many commodities to Iran including cotton, ferrous and non-ferrous metals, fertilizers and chemical fibers. Iran exports construction materials, detergents, foods, tea and fruits to Uzbekistan.