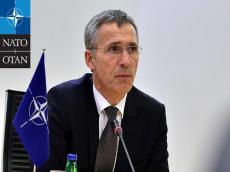 By Azernews
By Kamila Aliyeva
The next NATO summit, which will be held in Brussels in 2018, will discuss NATO's relations with Russia, cooperation with the European Union and modernization of the alliance.
This was stated by NATO Secretary General Jens Stoltenberg at a meeting of the NATO Parliamentary Assembly in Bucharest, RIA Novosti reported.
"We have begun preparations for the next NATO summit in Brussels next year at our new headquarters. We will continue to work on the basis of the decisions taken at the summits in Wales and Warsaw, modernizing our collective defense and helping to bring stability and security to neighboring countries in the south and east," he said.
Stoltenberg also mentioned that relations with Russia and our cooperation with the EU and the continuation of the modernization of the alliance will be important topics for discussion.
In early September, the official meeting between the chairman of the NATO Military Committee Petr Pavel and Russia's Chief of the General Staff of the Armed Forces General Valery Gerasimov took place in Azerbaijan's capital.
This face to face meeting demonstrated a clear mutual interest to maintain the military communication, in line with NATO's policy of transparency and ongoing dialogue at the political level with senior Russian leadership.
During this meeting, Pavel and Gerasimov agreed to continue using the military lines of communication in the future.
Some experts believe that this was a first step in trying to reconnect NATO and Russia in some kind of meaningful dialogue.
In 2014, NATO decided to suspend practical cooperation with Russia, while maintaining a political dialogue at the level of ambassadors and above.
 Russia has repeatedly stated that it was not Moscow that suspended agreements with NATO and that's why the alliance should take steps to reanimate the interaction.