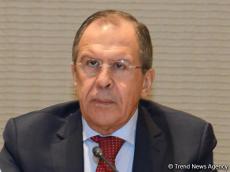 By Azernews
By Kamila Aliyeva
Russia is open to proposals to increase the number of participants in the Astana talks aimed at resolving the situation in war-torn Syria.
"We believe that it would be useful to expand the number of observer countries, and in this sense we are open to discussion, but of course this requires an agreed decision of all countries that initiated this process," Russian Foreign Minister Sergei Lavrov said after the meeting with his Kazakh counterpart Kairat Abdrakhmanov, Kazinform reported.
At the same time, he noted that the success of the Astana process is promoted by a number of countries without formal participation.
"Now, for example, Saudi Arabia, which has undertaken to unite disparate groups of oppositionists, including the so-called and Er-Riyadh group as well as the Moscow and Cairo groups, is of great help to all of us. Let me remind you that there is also an Astana group as several opposition meetings took place in the capital of Kazakhstan. In parallel, our Egyptian colleagues work in this direction. And they played a very important role in providing an agreement on two of the four zones of de-escalation. We will welcome the same constructive attitude on the part of everyone who is ready to make a useful contribution," Lavrov concluded, recalling that currently there are three guarantor countries participating in the Astana process that is Russia, Turkey and Iran.
He mentioned that Astana talks also involve Kazakhstan - as an organizing country, sides to the Syrian conflict - governmental and opposition, and observers from the United States and Jordan.
To date, six rounds of negotiations on the ongoing Syrian conflict were held in Astana.
Guarantors of a nationwide Syrian ceasefire regime - Russia, Turkey and Iran - had agreed on May 4 in the Kazakh capital, Astana, to establish "de-escalation zones" in war-torn Syria. The zones would cover the city of Idlib and certain parts of Latakia, Homs, Aleppo and Hama as well as Damascus, Eastern Ghouta, Daraa and Quneitra.
The establishment of the fourth one in Idlib province was the spotlight of the sixth meeting on Syria in Astana and Putin-Erdogan recent talks.
While the Astana process is separate from the UN's Geneva talks on Syrian crisis, the attendance of the UN Special Envoy for Syria Staffan de Mistura links the Kazakh platform to broader international efforts. 
Syria has been locked in civil war since March 2011. According to UN's special envoy for Syria, Staffan de Mistura, around 400,000 people have died in the conflict while half the population has been driven from their homes.