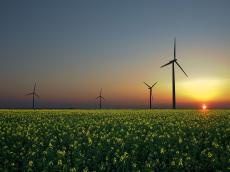 By Azernews
By Kamila Aliyeva
International organizations and financial institutions are keen to help Kazakhstan, an energy-rich Central Asian nation, in achieving its goal to increase energy generation from renewable sources.
The Green Climate Fund (GCF) approved funding for Kazakhstan in the amount of $110 million for projects within the framework program on renewable energy developed by the European Bank for Reconstruction and Development (EBRD), the Kazakh Energy Ministry reported. 
"This contribution of GCF involves concessional financing in the amount of $106 million and $4 million in subsidies for technical assistance. The projects will be aimed at assisting the Kazakh Government in the transition to a green economy, including the development of solar, wind energy, small hydropower and biogas as well as the modernization and strengthening of electric grids in order to expand the integration of renewable energy sources," the message said.
The executing agency for these projects will be EBRD, which to date has invested 7.3 billion euros in Kazakhstan, of which 1.7 billion euros has been invested in sustainable energy.
Through the active cooperation with the GCF and EBRD, it is expected to expand investments in renewable energy sources in Kazakhstan and implement joint projects aimed at combating climate change.
The Green Climate Fund (GCF) is a new global fund created to support the efforts of developing countries to respond to the challenge of climate change. GCF helps developing countries limit or reduce their greenhouse gas (GHG) emissions and adapt to climate change. It was set up by the 194 countries who are parties to the United Nations Framework Convention on Climate Change (UNFCCC) in 2010, as part of the Convention's financial mechanism.
Kazakhstan plans generating 50 percent of its electricity from renewable and alternative energy sources according to President Nazarbayev's ambitious 2050 strategy. This strategy is a part of the country's comprehensive initiative to transfer itself from one of the world's major hydrocarbon energy producers to the green economy model.
Renewable energy production volumes will grow three times compared to current indicators, according to Kazakhstan's Ministry of Energy. In three years, more than 100 alternative energy facilities will operate in the country compared to the current 50. The facilities will include 23 wind energy plants, 17 solar power stations and 13 hydroelectric power stations, as well as several plants producing biogas, an alternative energy source.
In addition to green energy, Kazakhstan's transition also focuses on water source conservation, waste management and reduction of carbon emissions.
Special focus is currently being placed on wind power facilities, which is largely due to the unique natural conditions of the country's regions. For example, the average annual wind speed reaches nine meters per second in the capital and Fort-Shevchenko, on the territory of the Dzungarian Gate and Shelek Corridor.
The areas, which measure approximately 50,000 square kilometers or 2 percent of the country's total area, can produce a trillion kilowatt-hours per year, which significantly exceeds the nation's energy needs.
Transition to the green economy reduces risks of global threats such as climate change, exhaustion of natural resources and deficit of water.