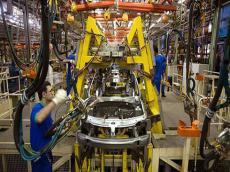 By Azernews
By Kamila Aliyeva
Islamic Republic's automotive sector, which accounts for 10 percent of the country's GDP and 4 percent of the workforce, is the second most active industry in Iran, after its energy sector.
Iran's second largest car producer - Saipa - manufactured over 285,000 vehicles during the first half of the current fiscal year (started March 20).
The figure indicates a rise by 19.8 percent compared to the same period of the preceding year, according to the company on October 4.
Saipa's production plan is materialized by 95 percent, the report said.
Meanwhile, Saipa sold 273,106 cars between March 20 and September 22 bringing in 77,844 billion rials (about $2.3 billion) in revenues, according to a letter the company sent to the Supervision Office of Iran's Securities and Exchange Organization, Trend reported.
Saipa's output amounted to 44,000 during the sixth Iranian calendar month (March 20-Sept. 22). The company sold 51,560 vehicles, worth 15,071 billion rials in the period, according to the letter.
The Iranian manufacturers currently produce different types of vehicle, including passenger cars, 4WD, trucks, buses, minibuses, and pickup trucks. 
Iran's passenger car (including sedans and SUVs) output registered a rise by 20 percent during the first five months of the current fiscal year (March 20-August 21) to stand at 496,833 units.
Iran's car output reached 1.165 million units in 2016, according to the OICA. The figure indicated an 18.6-percent rise versus 2015, which is the highest output growth rate among car manufacturers in the world.
The Islamic Republic was the world's 18th biggest car manufacturer in 2016. Iran's car industry is the second biggest sector in country after the energy sector, which makes more than 10 percent of GDP.
Following the JCPOA, Iranian car manufacturers reestablished cooperation with European companies, including Peugeot, Citroen and Renault. This resulted in a strong growth of nearly 151 percent for automotive sector, which ended 2016 as the top performing sector on the Tehran Stock Exchange.
Traditional export markets for Iranian automobiles include Algeria, Azerbaijan, Cameroon, Ghana, Egypt, Iraq, Pakistan, Senegal, Syria, Sudan and Venezuela.
Under Iran's major economic development plan, the country has set a goal to boost car output to three million per year by 2025, reducing unnecessary car imports. Central geographic location of the country provides significant growth potential as an export hub.