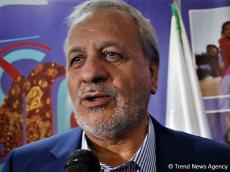 By  Trend
The Iranian government is planning a comprehensive plan to boost social services to rural areas, Vice President for Rural Affairs Abolfazl Razavi told a press conference.
The master plan includes building complexes for health, education, sports, and public services for each rural district, which number 2,600 across Iran, Razavi stated, Trend correspondent reported October 3.
According to the vice president, the plan will be carried out during the current administration (to end 2021) with the aims to reduce government spending, offer better services to rural areas, and increase social satisfaction.
"At the health centers, there will be a number of specialists as well as 5 or 6 ambulances," Razavi said, adding free transportation to and from schools will also be part of the services to be provided by the education centers.
The average population of a rural district in Iran is 8,000. In Iran, 99.9 percent of villages use electricity. 87 percent of the rural population of Iran have access to asphalt roads.
In another part of the press conference, Razavi said all villages with a minimum of 20 households will be connected to the gas distribution network. 67 percent of villages in Iran are connected to the national natural gas distribution network.
Denouncing past policies of centralization for launching industrial units away from rural areas, with economic and social damages that ensued, Razavi said there are also plans to create processing units for agricultural and horticultural products, as well as mineral materials in rural areas with rural management.
"Tomorrow we are going to finalize a plan that would grant the ownership of minerals in rural areas that currently do not have any owner to the rural residents of the same region."
Due to lack of proper policy-making in the past, Iran's rural population witnessed a fall of 700,000 from 2011 to 2016, Razavi noted.
"However, during the same period the number of villages with more than 20 household increased, which shows we had reverse migration," he said.