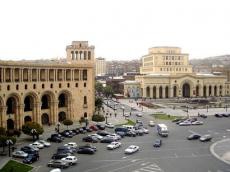 By Alan Hope 
On September 7, 2017 Moscow District Military Court had sentenced Armenian national Aram Petrosian to 12 years of imprisonment on charges of "Terror act" and "Hostage-taking".
Throughout its history Russia had faced many foreign and domestically organized acts of terrorism, and isn't a stranger to the Armenian terrorism as well. The most memorable one had occurred on January 8, 1977, when three explosive devices, detonated in different parts of Moscow, had claimed lives of seven, while injuring 37 others.
The investigation had proven that the terror attacks were masterminded by the founder the Armenian National United Party (splinter cell of the Armenian national-terrorist organization – ASALA) Stepan Zatikian and were executed by the cell members – Zaven Bagdasarian and Hakop Stepanian. The perpetrators were apprehended upon the fourth botched bombing attempt at the Kursky Railway Station in Moscow. Zatikian, Stepanian, and Bagdasarian were found guilty on January 24, 1979 and executed five days later.
Quite recently Russia had come to face yet another Armenian organized terror attack, as on August 24, 2016, a man, claiming to have an explosive device, had walked into the Moscow branch of "Citibank" and took 15 people hostage. He had immediately released nine of them, including a pregnant woman. During the negotiations with the Moscow Police at the scene, the perpetrator had claimed that he wasn't trying to rob the bank, but wanted to air his grievances to the Russian President Vladimir Putin. Later on that evening, the perp had released the remaining hostages and surrendered himself to the police. Perp's chest-bound wired yellow box, claimed to be an explosive device, turned out to be a dummy filled with salt.
Upon apprehension the man was identified as 1961 born Armenian national Aram Razmikovich Petrosian. Followed investigation had established that Petrosian, who had claimed to be former economic advisor to the deputy chief of the Armenian Ministry of Internal Affairs, was charged with "Fraud" and served a 5-year sentence in his homeland. Since his arrival to Russia in 2003, this present day "chevalier of fortune," had founded and operated several business ventures, currently investigated for tax evasion and fraudulent activities. Suspect's swindling operations had actually resulted in his financial liabilities valued at 12M Russian rubles ($211K at current rate).
During the investigation Petrosian had claimed to author several inventions and hold "32 patents and five copyrights." Nonetheless, the results of the technical examination conducted on his so-called patents, including "carbon-hydrogen direct-flow engine," had proven some of the "inventions" to be ridiculous if not strange, while others – simply dubious, like the "Sublingual tablet," which is an ordinary candy made of coffee. The most bizarre incident involving Petrosian and his "inventions" had occurred on December 21, 2012, when the suspect dressed as Ded Moroz (Russian Santa Claus) had attempted to enter the Kremlin and present his "inventions" directly to Putin.
Notwithstanding the above mentioned, the psychiatric evaluation conducted on this grotesque character had shown him to be mentally competent to stand trial. Furthermore, the investigation had proven that, while Petrosian had tried to portray his actions as a socio-political stance on bankruptcy, he simply wanted to avoid his creditors. Thus, on September 7, 2017 Moscow District Military Court had sentenced Aram Petrosian to 12 years of imprisonment on charges of "Terror act" and "Hostage-taking," and ordered him to pay 50K rubles for moral damages to one of the victims.
On the background of the ludicrousness of Petrosian's actions his punishment maybe viewed as too harsh. Nonetheless, it's hard to avoid the fact that Petrosian had decided to resolve his financial problems through a well-established Armenian tradition of terrorism, the outcomes of which are well noted in the history. From that point of view, the ruling of the Russian court, aimed at the prevention of any such future attempts, is fully justified.