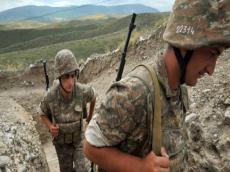 By Azernews
By Rashid Shirinov
Armenian parents are agonising over the murder of their sons and fighting against abuses in the army.
Armenian mothers, who send their sons for military service, are more afraid that they can be the victims of hazing and violence inside the Armenian army, rather than victims of military clashes on the frontline.
These are incidents related to a dedovshina culture in the Armenian army, where bullying, violence, including sexual, hazing and constant humiliation of human dignity are "flourishing".
Every few months, incidents of often deadly abuse are exposed.
In June, several soldiers died after being beaten by senior ranks. Also, a sergeant of Armenian army killed his fellow soldiers allegedly as revenge for bullying.  
In July, Junior Sergeant of the Armenian army Vardan Melkonyan was found hanged in a military unit. Later, Armenia's Investigative Committee announced that Melkonyan's fellow soldier was arrested on suspicion of committing violent acts against the late sergeant.   
In late August, three soldiers serving in the Armenia-occupied Agdere region of Azerbaijan were brutally beaten by senior ranks and insulted in front of the whole military personnel. The officers beat hungry and thirsty soldiers Levon Khachatryan, Edward Baghdanyan and Harut Martirosyan because they refused to dig the ground under the sun.
Another incident took place in Azerbaijan's Khojavand region occupied by Armenian armed forces back in early 1990s. A deputy commander of the regiment in an Armenian military unit, being on duty, drank alcohol with his friends, and started sexual assault against the soldiers. Two soldiers who could not stand the abuse left the military unit, then returned in the morning and complained to Commander of the regiment about the incident. Untypically for the Armenian army, justice was done and the Deputy Commander was sent to the military prison for five days.
In addition, many Armenian soldiers die in mysterious circumstances in their military units, and most of these deaths are being registered by Armenian investigation bodies as suicides in order to hide the real causes and real murderers.
The abovementioned facts show why Armenian families are afraid of sending their sons to military service and why they try to find any ways to save their boys from the Armenian army.