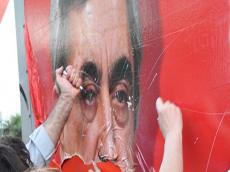 By Azernews
By Sara Israfilbayova
The expression "Sargsyan and his criminal clan" is on everybody's lips in Armenia.
The dissatisfaction of Armenians has its roots in a number of deep-rooted domestic issues in Armenian politics and economics. And no wonder: international organizations in their reports clearly indicate that more than half of the country's population lives below the poverty line, while many are deprived of basic human rights.
Armenians blame President Serzh Zargsyan and his team for turning Armenia to a dependant and poor country. They, as follows from the statuses of social network users and local media, are aggressive towards the Sargsyan regime and do not intend to hide their bitterness.
First of all, this is due to the difficult socio- economic situation in Armenia: a citizen of this country has to think only of daily bread. A rapid growth of external debt and decline in foreign investment are the realities of the national economy.
Armenians are fed up with empty talk, chattering and foolish promises. Each speech of Sargsyan is followed by a flashmob in social media, where Armenians show obscene gestures against the background of the photos of their president.
Today, Armenian society is in deep anxiety, because, no one knows what to do. As for those who should know, they are part of "the criminal clan" and their actions have nothing to do with ordinary citizens of Armenia. Sargsyan and his criminal clan are busy with emptying pockets of ordinary Armenians.
Today Armenian society is characterized by the absence of both ideological, value incentives, and the lack of a dream, idea, strength and faith in future.
A recent poll also proved that the citizens of Armenia are not "happy" with their president.
"Nothing good" was the most often first answer of respondents. Among the reasons for such a negative attitude the majority of respondents called the disastrous socio-economic situation in the country, which forces many people to leave their homeland, as there is no decent pay in the country.
Armenia's current emigration rate is 4-5 percent of the whole population annually, which is the highest in the world. The official Armenian statistics show that some 3,226,000 people lived in the country in 2000, but this indicator fell to 2,981,000 million by early 2017.
Nevertheless, Sargsyan seems very positive. He promised that the number of population will reach 4 million in 2040 "thanks to a sharp improvement of the demographic situation" and keeps irritating Armenians with his unrealistic promises and statements.
Chaos and anarchy reign in Armenia, young people refuse to serve in the army, authorities violate the rights and freedoms of citizens.
Armenia today has become a symbol of injustice, militant ignorance and corruption. Considering the dire political and economic situation in the country this is quite normal.