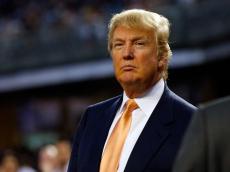 By  Trend
The United States will not use its armed forces to build democracy in other parts of the world anymore, US President Donald Trump said Monday, Sputnik reported.
"We will no longer use American military in order to construct democracies in faraway lands or try to rebuild other countries in our own image. Those days are now over. Instead we will work with allies and partners to protect our shared interests," Trump said during a press conference in Fort Myer in Arlington, Virginia, presenting a new integrated strategy for the US approach to South Asia.
According to Trump, the United States will cooperate with Afghanistan as long as Kabul will be seeking to reach progress, however this assistance will not be endless.
"We are not nation building again. We are killing terrorists," the president stressed.
Afghanistan has long been experiencing significant political, social and security-related instability, as terrorist organizations, including the IS and the Taliban radical movement (banned in Russia) continue to stage attacks against civilian and military targets.
The United States and its allies launched a military operation in Afghanistan in 2001 following 9/11 terror attacks. The mission in Afghanistan ended on December 28, 2014. On January 1, 2015, NATO announced its new mission in the country, called Resolute Support, to train and assist the Afghan security forces.