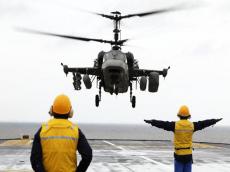 By  Trend
Russian Rostec plans to test a helicopter in Iran's hottest regions, with plus 50 degree Celsius temperatures, company told IRNA, Aug.10.
Report says that the company would test Ka-226 twin-engined Russian utility helicopter.
Prior to this, Russian Helicopters Company reported Aug. 9 that, the Russian Helicopters Holding Company (part of Rostec State Corporation), together with the Iran Helicopters Support and Renewal Company (IHSRC), will test the light utility helicopter Ka-226T for its usability at extremely high temperatures.
Tests will be conducted on the Iranian company's site, within the framework of the memorandum signed by the parties in May of 2017 at the international exhibition HeliRussia-2017. Ka-226T has already arrived in Iran and started its first test flights.
The objective of these tests, which will continue until the end of August, is to prove the usability of Ka-226T at ambient temperatures of up to 50°C plus.
Moreover, in early September, Russian Helicopters, together with IHSRC, are planning to hold a conference in Iran, to acquaint the potential customers with the test results, specifics of the Ka-226T operation and its competitive advantages, the report added.
"Testing of Ka-226T in the extreme climatic conditions of Iran will make the helicopter even more attractive for the potential operators not only in this country, but also throughout the Middle East. We can notice a great interest towards this helicopter in the region even now, and we hope that our cooperation with our partners from IHSRC will allow us to turn this interest into several contracts and agreements," said Andrey Boginsky, CEO of Russian Helicopters.