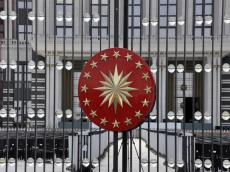 By Azernews
By Ali Mustafayev
Turkey is ready to counter any threat at its borders, said the Turkish Presidential Administration.  
Turkey, as the regional power, has every right to act within its state and national interests, the administration told Trend amid reports that the Turkish Armed Forces are brought to full combat readiness in connection with the expected new military operations in Syria against the YPG.
Ankara accuses the YPG, which controls large swathes of Syrian territory along its border, of being an offshoot of the terrorist PKK, which is fighting the Turkish state. Ankara states that the terrorist PKK and its Syria wing are indistinguishable.
However, the U.S. considers YPG/PYD a "reliable partner" on the ground in Syria and continues to support them in the field.
The administration further noted that the United States makes a huge mistake in equipping the YPG ("Kurdish People's Self-Defense"), since YPG is the same terrorist organization as the "Islamic State".
 "There are many factors confirming cooperation between YPG and ISIL," the administration said.
Regular exchanges of rocket and artillery fire were observed in recent weeks between Turkish forces and YPG fighters ,who control part of Syria's northwestern border. Turkey, which has the second largest army in NATO, reinforced that section of the border at the weekend with artillery and tanks, while President Erdogan said Turkey was ready to take action.
Currently, there are about 25,000 Turkish military on the border with Syria. The Turkish army's headquarters have been reinforced with arms and armored vehicles that have been sent to the region.
 All activities of the terrorist organization are under surveillance, with the Turkish Armed Forces' unmanned aerial vehicles, against PKK/PYD's harassments. Turkish military operations are expected to be conducted in Tell Abyad, Afrin, Tell Rifaat, Manbij regions.
Moreover, the Turkish government informed Moscow about possible military operations in Syria. According to the agreement between the General Staffs of the two countries, in case of new operations of the Turkish military forces in Afrin, Russian military personnel will be redeployed to another town.
Turkey supports Syrian opposition and fights against ISIL. Despite disagreement with Russia in the beginning of the conflict caused by Russia's support to Bashar al-Assad, later Turkey and Russia became allies in the fight against terrorist organizations acting in Syria.
Turkish army started "Euphrates Shield" operation against ISIL militants on 24 August, 2016. With the support from the Syrian opposition, Turkey took Jarabulus city on the north of Syria, and al-Bab city. Ankara informed in March, 2017 that the operation is successfully completed.